Angling Times, 6th November 1974, p12. Bob Alexander talking to Clive Nash.
Keep it Simple.
A long urged, rocky scar along Dorset's coastline – that's Portland Bill. A jumble of jagged, and at times dangerous, but a series of highly individual – and productive – hot-spots to the few local angers who can claim to know the area. Even the impressive rocks themselves all boast their own names – like Split Rock, Long Rock, and so on.
Fishing these marks often involves an awkward scramble down 200 foot cliffs – a fact known only too well by Portland local Bob Alexander.
Bob is a man who has done a lot to pioneer the art of spinning for bass and Pollack from the precarious perches he and his angling mates have discovered – some just several hundred yards from his home.
Yardstick.
The success of Bob and the small band of locals who have listened to his ideas is measured by the only yardstick that really matters – the fish that they catch. It took him a long time to persuade anyone that spinning from the rocks would really catch anything on the Bill, but his results soon started people thinking.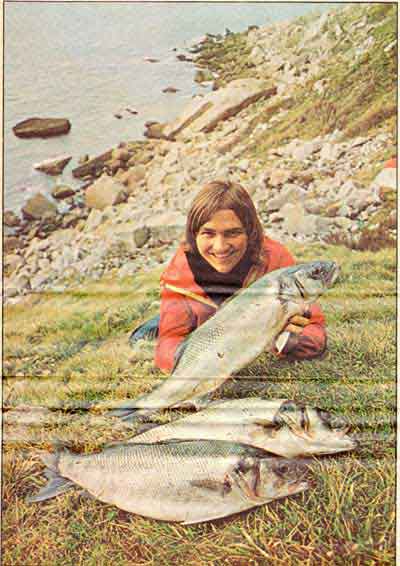 Mike Munroe (image right)– a young neighbour of Bob's – was one of the first to be persuaded, and he hasn't looked back. Regularly he and other "converts" haul out good bags of bass and Pollack from the Bill. Mike started fishing with Bob as "the lad from across the street" but now 19-year-old enthusiast can show the old hand a few tricks at times.
And how do they do it?
"Simplicity is the only secret I have," said Bob. "In its basic form, spinning is an easy and pleasing form of angling – and one that produces fish."
"I like light tackle," Bob explained. "A nine foot rod capable of casting a two ounce lead (I said a ¾ of an ounce), and not too far either. Distance is not what counts in game. It's a matter of searching out the fish in the white water running through the rocky channels close in.
"A small closed face reel and 8 lb line (I said 10 lb. line) is plenty to control the wildest bass if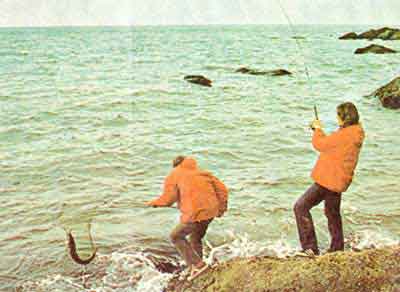 you know what your are doing – though if you strike into a Pollack above the three pound mark you'll more than likely end up with an aching arm and lost terminal tackle. They really do go, and take a lot of controlling. I scale up my tackle slightly to cope with Pollack, but if I hook one above 3 lb or so I don't hold any great hopes of landing it."
With the relatively light tackle and bearing in mind the snaggy nature of the marks he fishes, Bob started to think around the shop-bought artificial sandeels he uses. When you are talking about a lure costing 40p – and you can lose a few pounds' worth in a session to the tackle hungry rocks – your sport can become expensive.
And the answer he came up with was a simple rubber ring – the sort you find sealing the tops of fame jars. One quick cut and you have a cheap lure with an incredibly realistic action. An eight-foot trace to the first swivel and a short link of a few inches (holding a barrel lead of the required weight) tied to the second swivel, completes the outfit. As Bob says, keep it simple. The best times are fishing the tides at dawn and dusk, especially for Pollack, though Bob does find bass during afternoon sessions.
Likely rocks.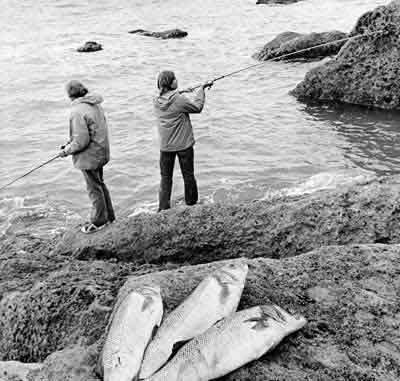 "Its more a matter of hunting the fish out, than the usual fishing style of chucking out your tackle and waiting," said Bob. "Look for likely rocks where the fish are to be found lying in wait. Lob your lure to the side of the rock and spin fast. A quick retrieve is essential. And the white water where the tide rushes up through channels in the rocks always holds a few fish." Part of the excitement, says Bob, is the uncertainty of which species has grabbed you lure.
Bob and his small, but dedicated band of spinners, catch fish – and plenty of them. And those catches include double figure bass. The sport is easy if you're fit enough to brave the scramble down the cliff paths and spend a morning or evening jumping from rock to rock after your fish.
Pictures: Clive Nicholls. Story: Clive Nash.