Chesil Beach
Until last year my heavy rod was a 3·35m 25-65g "anyfish anywhere" Lure & Bait, mk2, which really did blast out lures up to 40g+, which is now sadly more than my tired old shoulders can cope with. The rod was perfectly matched with a Diawa Exceler 3000 loaded with 8 strand 18lb., Diawa J Braid line, making it a very tasty heavy spinning rig indeed. It also turned lots of heads on Chesil when I used it with a 40g weight and a four feather rig for Mackerell, which really did bend the rod whenever I had a "full house."

Now I am back using my trusty 10'0" (3·00m) 15-50g, ABU Rocksweeper that will cast 35g lures into a strog wind for as long as I want. Now matched with a Diawa Ninja 2500 reel loaded with 18lb, Diawa 8 strand J Braid, again on a calm summer evening, a "full house" of three Mackerell with a 30g weight, really does test the strength of this rod, giving it a very satisfactory bend.

For medium spinning, I use either my 9'6" (290cm) Major Craft Crostage, 10-30g or my 9'6" (290cm) Major Craft Skyroad Surf, 5-28g, which has a slightly lighter casting range but a noticeably faster action which suits my style of casting.

This is matched with a Diawa Ninga 2500, again loaded with 18lb., Diawa J Braided line. I find a 9'6" rod to perfectly suit my style of casting and spinning.
My light rod preference is the 8'6" (2·6m) Rapture Del Sol 3-15g, which I use with a Shimano 2500 Exage, again loaded with 18lb., Diawa J Briaded line.

This rod will cast a 15g No:2 Black Minnow dressed with an Offshore jighead all day long, whilst the smallest Bass will bend it over.
The lure trace for these outfits is a 60/70cm long length of 7kg fluorocarbon with a gemini clip on one end and a gemini swivel clip on the other. Each trace winder can hold 5 lure traces.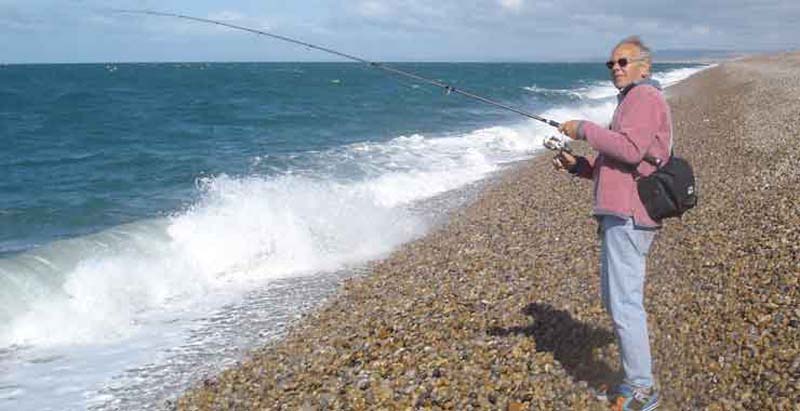 As usual the school bass were on the feed but my Abu Rocksweeper is well over-powered to get the best out of them. This one hit the lure and ran with the tide towards Portland, but when its initial fast run was over it was easily pulled back.


1. The action of the breaking waves pushing and pulling and pushing huge amounts of pebbles up and down the beach creates steep banks (steeps) and terraces (flats) up the beach, also creating a deep underwater trough behind the breaking wave.
2. I like to cast and count the lure down for five seconds so that when I start the retrieve I will get a feel of the pushing and pulling of the waves upon the lure; then I will cast the lure to the left, centre and right, always trying to bring it in just behind a breaking wave.
3. Retrieving the lure at a medium to brisk pace, I hold the rod tip down as low as I can while keeping the line above the breakers. Most bass follow the lure in and hit it just before the wave breaks, but some crazy school bass take it in the white surt that runs up the beach.
It is essential when you spin from any pebble or shingle beach that you regularly check the lure trace and first metre of line for damage. On the lure trace damage will show as small flat white spots, easily felt by running the trace between your forefinger and thumb. Damage to the braid line will show as small frays that can be more difficult to see. Failure to check will result in the line or trace breaking during the cast, or worse still when landing a fish.

A quick pose with the undersize 36cm school bass that ran with the tide, so that it can be returned without damage.
Normally I take my light rod with me just in case, but not on this occasion. With a nice sea running up the beach and virtually no wind, it would have been a really good day for much lighter tackle. However, I never cease to be amazed how small bass take such big lures.
As always there is a chance of hooking a much bigger fish, but sadly the chances of landing five or six 38-44cm bass in a single session are becoming a thing of the past.
Perhaps the 42cm minimum landing size and daily one bag limit is all a bit late to take us back to the Bass stock of even 5years ago.

Ringstead Beach
This shingle beach is just beyond the eastern end of Weymouth Bay. Being in the lee of Portland, the terraces, steeps and drop off behind the breaking wave more shallow. Best fished in the autumn after the boat moorings have been cleared and the caravan site is empty, this beach was another favourite of mine because I could use my light-spinning rod more often than not. Although I no longer spin this beach, my favourite spots were the Western end of the beach where the gravel beach sits on the rough ground of the inshore reef.
Otherwise, closer to the car park in the opposite direction, I would spin the rock groyne in front of Ringstead Caravans site, which allowed me to search the gully to another reef just offshore. The exact position of the reef is clearly visible on the Google satellite image that was taken at low tide.